Challenges
Housing Associations are caught in the gap between the rising capital costs of housing and accelerating demand for high-quality, low-cost accommodation. Given that most housing associations are heavily debt-financed, interest rate rises add to this squeeze. At the same time, their duty of care to tenants is under scrutiny, particularly with regard to building safety, maintenance and energy performance, and the regulatory environment is rightly tightening all the time. If that weren't enough, there is a shortage of new affordable housing, added to labour shortages and higher than average inflation in the building industry.
Housing Association tenants themselves are living right at the heart of the cost of living crisis, dealing with increasing rents, energy costs and food bills.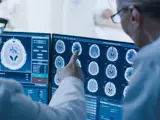 How can technology help?
The starting point is having a manageable infrastructure, with consolidated systems, consistent data, and strong cybersecurity.
Efficiencies will come from combining maintenance and repair work, in having optimally efficient processes for getting the right person with the right skills and tools to the right place at the right time. Artificial Intelligence (AI) and process automation can help here.
The use of sensors to monitor buildings can also help both with predictive maintenance and tenant care, providing vital data that can deliver actionable insights.
Alongside all this we're rapidly developing our capabilities, investing in our in-house skills and building more of the right partnerships so we can help you deal with the challenges you face.
What we do
Our team has decades of experience in delivering complex, challenging projects that help our clients do business better. We have the right skills and capabilities to work with you as technology evolves, supporting your changing business, delivering tailored IT solutions and adding value as your trusted technology partner.
ITPS value
Underpinning these emerging capabilities, every organisation needs a secure, scalable, sustainable and optimised IT infrastructure, providing the best possible balance of cost and performance.
That's our stock in trade. First we take away the headache of running the day to day service. Then we look at advising our customers on how and where technology can help address their issues, and work alongside them to implement practical solutions.
The outsourcing of responsibility for cybersecurity is a worldwide trend. The pace of change is such that only specialist organisations can hope to keep up. Our skills, qualifications and experience are the reason that many of our customers rely entirely on ITPS to manage the prevention and detection of cyber incidents as well as recovery when the inevitable happens.
Featured case studies
ITPS's innovative IT solutions have revolutionised operations for a number of our valued clients. Discover how our tailored services have streamlined processes, boosted efficiency, and empowered our clients to deliver superior services to their customers.
Interested?
As problem solvers, we work with all types and sizes of organisation, with a proven record of success across many sectors including public sector, healthcare, finance, manufacturing and not for profit. We look forward to finding out how we can help you too.
Latest insights
Our team has decades of experience, and we want to share it with you. Keep up to date with the latest happenings across the world of technology, from business developments and expert insights to case studies and wider updates from our team on the latest in cyber security, product development and best practice.
Career opportunities
Our people make us what we are. We look for the best and support them with continuous professional development and brilliant benefits.  If you want to work with great people on innovative projects in a lively and inclusive culture, we'd like to hear from you.